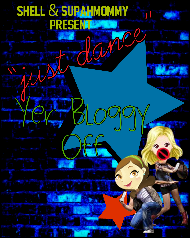 I was unprepared for the high level of competition last week. Messy mommy sauntered away with the title of Dance Queen Supreme....a well deserved victory I must say since she SMOKED the competition. This week I put in some serious practice time and I'm hoping that it pays off.
Don't forget, even if I don't get the highest score (Who are we kidding I totally rocked it!!) you can still vote for me as FAN FAVORITE by leaving a comment for either
Supahmommy
or
Shell
and telling them how fabulous I am and that you will be devastated if I'm not FAN FAVORITE.